With spring winding down and summer just around the corner I can't help but reminisce about places in Korea that aren't in a tourist book, but are unique and wonderful in their own way. Maybe due to not being in Seoul at this moment I think about some quiet places full of soul that I enjoyed the most with the man I love.
Please note: These places can be enjoyed solo, but if you would like to check them out with a friend or significant other please do!
WHATTHEBOOK (왓 더 북) – Itaewon, Seoul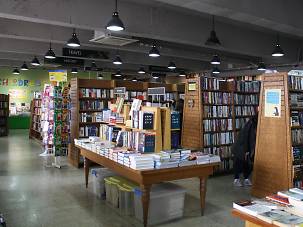 WHATTHEBOOK is one of the largest local private-owned foreign book stores in Seoul. Located in Itaewon the store is widely popular with Seoul's foreign residents and also native Koreans looking for a wide selection of English printed books.
Surprisingly on weekends this store is modestly quiet. It's a great escape from the hustle and bustle of shoppers and traffic on the street below. My boyfriend and I really enjoyed an impromptu date here after running for cover from the rain. We strolled through each and every aisle, played hide-n-seek, and shared/ showed each other some of our favorite books from our teenage/college years.
Being the only two (besides the employee upfront) there made the store feel very cozy and nice. I enjoyed the hours we spent reading and chatting about tall tales, history, famous authors, and language-learning.
2. Saekkum Children's Park in Noksapyeong, Seoul (새꿈어린이공원-녹사평)- located right off of Noksapeong-daero 46-gil
The Saekkum Children's Park is a quaint outdoor children's park that my boyfriend actually stumbled upon and brought me to during one of our summer dates. The best time to go I think is in the evening hours. During this time you will find many Korean and non-Korean children playing on the playground with their families sitting nearby. You may also see a rainbow-color ajumma (아줌마) troupe using the outdoor exercise machines.
The best part about the park is it location in a quiet and peaceful hilltop neighborhood of Noksapyeong. Noksapyeong is known as popular restaurant, bar, & sweets shop location, but behind all of the chatter are quiet neighborhoods, which are colorfully diverse. When my boyfriend took me to this area & most especially the park I was surprised by how many foreign Korean-speaking children were there. My boyfriend enjoyed speaking with these children and their families and I enjoyed being a part of the moment. Not too often have we been able to see a large group of Korean and foreign families together enjoying each others company.
3. Hyundai I'Park Mall (현대아이파크몰) – Yongsan, Seoul
Hyundai I'Park Mall located in Yongsan isn't your average mall in Seoul. Unlike Shinsagae and Lotte Department malls the Hyundai I'Park Mall is directly connected to a KTX and subway station. Additionally, unique for its architecture and entertainment complex the I'Park mall is a great mall to visit when you have some down time.
I highly recommend visiting the mall during the early morning/day hours when fewer crowds are present. My boyfriend and I took advantage of this when we went on a 7am movie date one time at the I'Park Mall. We were one of ten people who came to mall so early to watch a film and one of the few customers shopping during the stores open hours. It was a nice change of pace being a quiet shopping atmosphere.
4. Eulwangri Beach (을왕리해수욕장) – Eulwangri, Incheon
Eulwangri Beach is a mud-flat beach off of the western coast of South Korea nearby Incheon Airport. It is a popular late-spring to mid-fall destination for Koreans who would like to get away from bustling Seoul and relax by the closest sea-shore. In addition to relaxing Eulwangri Beach is widely known for its grilled clams(조개) and shellfish(조개구이) restaurants that dominate the seaside main street.
For a nice weekend getaway my boyfriend and I went to Eulwangri last year. We went just before Buddha's birthday holiday weekend to avoid the crowds, but surprisingly Eulwangri was quite busy the weekend we stayed. Notably popular at night many Koreans like us arrived in the early evening to catch the beautiful seaside sunset. Afterwards like drones (unfortunately T.T) everyone quickly flooded into the best seaside view restaurant they could find seats in. I can't remember the exact name of the restaurant that we managed to snag a table in, but it was definitely one of the most crowded ones.
The food, the service, and shockingly the crowd of people made our stay worthwhile. But, the best part of the night came afterward. We walked to a local store to pick up bandages. Unfortunately, due to drinking heavy liquor I accidentally cut my knee under the table's grill stove. But all was well with my boyfriend being present. We found some first-aid stuff and he patched me up. Then we walked hand in hand to our hotel located not to far from the beach. By this time the beach goer crowds had dissipated. Once again we got to enjoy an entire area to ourselves.
5. Lotte World Tower & Mall(롯데월드타워&롯데월드몰) & Songpa Naru Park (송파나루공원) – Jamsil, Seoul
Located by Jamsil station Lotte World Tower & Mall and Songpa Naru Park are two growing destinations for Seoulites, foreign residents, and tourists alike. The grand opening of Lotte's World Tower & Mall has brought much turn-out to the area. Previously only Lotte World theme park was the highlight destination in the Jamsil area.
Not the first spot one might think of for some quiet time Jamsil is definitely not a place to overlook. One summer day after my boyfriend got off of work I asked him to meet me out in Jamsil. We had planned to continue birthday gift shopping and decided to enjoy our first date out in the Jamsil area. Having never visited the new Lotte World Tower & Mall me and my boyfriend spent the majority of our time walking around rather than shopping. Eventually working up an appetite we went to the upper floor levels to check out the restaurant selections.
Having visited the mall a few times before with friends I was somewhat familiar with the theme restaurant area on 5F. After a quick look around my boyfriend and I quickly chose to eat at Gatten Sushi, another first for us. After dinner we did some more walking but this time outside of the mall. Taking advantage of the cool weather and evening breeze we decided to head over to Songpa Naru Park adjacent to the mall. Compared to the mall Songpa park was not crowded. Being a weekday I was not too surprised. On weekends swarms of people visit the park to go on dates, exercise, or visit. On the weekday, however, the park was just the opposite.
After a nice dinner we went on a nice long stroll around Seokchonhosu Lake which connects Lotte World's Magic Island outdoor park area and Songpa park. Spending the evening outside in a green area of Seoul was the perfect way to end our day. Both my boyfriend and I do not live in lush green neighborhoods in Seoul, so any contact with trees is blessing. Strolling around the lake at night was not only peaceful, but romantic at the same time. We quietly enjoyed each others company underneath the stars, trees, and sky.